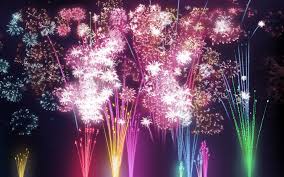 In honor of the 4th of July, I thought it appropriate to discuss a piece of music that was specifically written for something that will occur quite loudly today – fireworks!
G.F. Handel was a baroque composer who lived roughly around the same time as J.S. Bach. In the Suzuki violin world, we know Handel for his compositions "Chorus from Judas Maccabeus" and "Bouree", both from Book 2, as well as three Sonatas in Books 5 and 6.
Of course Handel was a European, not an American, so his Fireworks music wasn't written to go along with our fireworks – rather, those of the English King George II, who hired Handel to write the music in 1749. The King was having a big celebration, and must have wanted things to be extra-special.
The performers were seated inside a specially-built building for the occasion. Unfortunately, part of the wall fell in and the whole building caught on fire. The music though, was a success, and continues to be performed today, sometimes with live fireworks!